There is no shortage of rear-view mirror with cameras on the internet. They also feature a wide range of specs, including Bluetooth capability, wired connections, etc. However, to get the best rear-view mirror for your automobile, you will need to take a closer look at the individual features that serve your purpose best. Road safety is crucial for everyone, and it should not be taken lightly. Though rear-view cameras cannot stop the accidents, they can help prevent it by guiding you through a tricky situation.
If you have no rear-view mirror camera on your car and do not have enough money to purchase a new one, several rear-view mirrors are offered at fair prices. Having the best rear-view mirror installed on your car will go a long way in improving your road safety. The best rear view mirror cameras can provide the much-needed surveillance on your parking lot when parking or reversing your car. They could also be used as evidence in a court of law to help you access compensation from your insurance company.
View the Best Rear View Mirror with Backup Camera, Below
1. Topguard Rear View Mirror with Backup Camera
This is one of the most robust units in the market, and every car owner who does not have a rear-view mirror should consider installing this one on their car. The camera's resolutions are 1080p for the front camera and 720p for the rear camera. When the two are combined, they will provide you or your designated driver the most unobstructed view possible. Topguard 8″ camera Dash Cam features a waterproof rear camera, and it can hence be used in adverse weather conditions.
The rear camera's ability to provide you with high-quality images is enhanced further by the 170° wide viewing angle. This angle not only reduces the blind area during video shooting but also captures more details. Like on any high-end rear-view camera, the unit also features an in-built G-sensor that locks the current recording to make sure it is not overwritten by a new one when the loop recording setting is turned on.
The Topguard 8″ rear-view mirror camera is one of the best assets for road users that have no rear mirrors on their vehicles. We would recommend purchasing this unit if you need to read the tailgaters and license plates of the cars behind you. While this mirror unit is quite bulkier than we expected, it makes up for the extra weight with top-notch resolution and super easy to use interface.
Editor Rating
2. AUTO-VOX TW Rear Mirror with Wireless Backup Camera
Auto VOX combines both class and efficiency to offer you the best reverse ad parking experience while driving your car. It is super easy to install the unit in your vehicle, and you will not require any technical know-how to configure the camera to your satisfaction. The critical detail to remember is mounting the camera o your car's windscreen and connecting it to the wireless transmitter. In addition, the AUTO-VOX rear-view mirror provides an easy installation process since it can be installed over your existing rear-view mirror.
You will need to connect the unit to your vehicle's cigarette lighter to charge it while you drive. It offers excellent video quality even in the dark with its enhanced night-vision technology. That way, you can get compensation for accidents even if they happen at night. The camera is essential in recording the license plates of drivers trailing you, therefore, keeping you safe from driver criminals. This device features a wireless parking assistance technology that guides you when reversing and parking your vehicle. Unlike most other rear-view mirrors, the device offers you an enlarged view of what is around your car, enabling you to park or reverse your vehicle with no hassle.
While it comes at a significantly higher price than most rear-view mirrors, this device has excellent image clarity and support for wireless transmission. The latter makes the unit uniquely configurable to vehicles of any size. Moreover, its ability to detect objects and read license plates in the dark gives it an advantage over most rear-view cameras currently in the market.
Editor Rating
3. SENDOW Rear View Mirror with Backup Camera
The unit comprises a SENDOW mirror dash camera, a manual, a backup camera, an adhesive sticker, a car charger, two screws, and two mounting straps.
If your budget is low, but you still require a top-notch rear-view camera, the SENDOW-Mirror backup camera offers you the most return on investment. The unit features a front camera that scopes an amazing 170° viewing angle and a 140° rear-view camera. The two cameras allow you to capture anything in front or behind your car. The front-facing camera renders its images in 1080p resolution HD video. The 7" TFT LCD screen featured in the SENDOW mirror dash cam unit offers a 16:9 aspect ratio, which is perfect for a HD view. When the memory card is exhausted, the camera's loop recording feature allows it to overwrite the old records with the most recently recorded footage.
The unit also allows you to display images from one camera for an enlarged view, and four image-image displays from the rear and front cameras. You will only need to press a button to access whichever view you prefer. This allows you to easily access a smooth view of everything happening around your vehicle. The unit also features a G-sensor, which plays an essential role in locking valuable footage during an accident scenario. The device is also backed with a solid build, which can resist different damaging aspects of daily use. The manufacturer also offers professional assistance as well as timely customer service to all its customers.
The SENDOW-Mirror backup camera offers you the most return on your investment. Though it is priced lower than most rear-view cameras in its specs range, it provides top-notch features to its customers. To top it all off, this camera is easy to install and use, making it one of the best rear-view mirror cameras in the market.
Editor Rating
4. Topguard 17-Inch Rear View Mirror with Backup Camera
TOPGUARD is a leader in the production of rear-view dash cameras. Since the firm's establishment in 2009, it has provided millions of businesses and homeowners with top-notch products. The high performance of their TOPGUARD 7″ 1080P Mirror Dash Cam is the talk of the town due to its top-notch features. The unit also comes with a 7" IPS touchscreen that makes the unit very intuitive for drivers. Ideally, you can use the unit to simultaneously record 1080p from your front camera and 480p from the rear-view camera.
The utility also features a waterproof rear-view camera which you can use to record accident footage either during the day or in the night. The parking monitor triggers the dash cam, allowing it to turn the recording on when you are reversing or parking your vehicle. The unit also arrives at your picking spot well packaged to avoid any damages during its shipping.
The TOPGUARD 7″ 1080P Mirror Dash Cam offers excellent video footage of both the front and the back of your car, which ensures your safety from both sides. The unit is therefore recommended for drivers who wish to secure your driving experience completely. The excellent video quality offered by the unit enables drivers to judge the road situation before you get into an accident.
Editor Rating
5. Pruveeo D700 Rear View Mirror with Backup Camera
The unit is comprised of a Pruvee D700 Dash Cam, a car charger, a rear-view camera (waterproof), an extension cord for the rear-view camera, and an instructions menu. The 7-inch touchscreen that comes with the unit makes it extremely easy to use. Its rear-view camera is a dual-lens camera, and hence it renders excellent image quality. The extension cable is only suitable for cars since it is only 19ft long. It is pretty straightforward during installation and during operation as well. It fits perfectly over your current rear-view mirror, with a cable that goes into the car's cabin and into the cigarette lighter.
The Pruveeo D700 offers excellent conditions for easy car reversing or parking, which is critical to evade a majority of accidents. The rear-view camera is much more precise than the front camera, which is very advantageous while reversing or parking your car safely. That way, you do not have to worry about hitting something or someone behind your vehicle. The manufacturer also offers OEM and ODM services for its brands worldwide.
With the Pruveeo D700, you get more than you paid for. It is well priced and offers a ton of top-notch rear-view camera features. If you are looking for a relatively cheap rear-view camera that can provide you with the features of a top-notch camera, then this is probably the best option for you. While the resolution of its cameras is not that attractive, the unit offers more than enough features to make reversing and parking safer than ever.
Editor Rating
This rear-view mirror dash cam offers you some of the best features you can get in the market right now. Some of its features are not available even on the more expensive rear-view mirror options. For instance, the unit features a CMOS sensor that prevents your footage from overexposure, thus making the images super clear for faultless reversing and car parking.
The CHICOM V21 also offers a loop record function, which drastically improves the efficiency and reliability of the unit. Another significant feature showcased on the unit is the G-sensor function, which automatically locks accident video footage to prevents it from being overwritten by new video content. This could be essential in helping you claim your compensation from your insurance company in an accident scenario. That is primarily because you will require to provide evidence that you played by the rules at the time of the accident.
The fact that the unit offers a high quality 1080p front camera allows you to view smooth and high-quality videos while driving. The unit's dash cam is, therefore, great for recording details like license plates, signposts, or something extraordinary in front of your car.
Editor Rating
7. Campark R10 Rear View Mirror with Backup Camera
Unlike most other rear-view mirrors, the Campark Mirror Dash Cam Video Camera provides you with an F2.0 6-glass lens. The glass lens dramatically improves night vision capabilities allowing you to use your dash cam in low light conditions or during the night. Apart from the nigh-vision capabilities that come with this unit, we also love the fact that the rear camera is waterproof. This feature improves the efficiency and reliability of the camera during harsh weather conditions.
The unit's visual angle Is horizontal when you are driving, allowing you to have a further and wider view of the obstructions behind your vehicle. In layman, you will not need to worry about the blind spots on your rear-view mirror or image distortion anymore. The Campark Mirror Dash Cam is backed up with a 12-month warranty from the manufacturer as well as a money-back guarantee lasting 45 days.
The Campark mirror Dash Camera is an excellent choice to keep you safe on the road. The rear-view mirror is designed to offer you a double-view with a 10-inc touchscreen that works profoundly well with its 1080p video. The unit is relatively inexpensive given the features it provides. For people with larger vehicles, you will have to purchase a longer cable since the manufacturer only provides a cord suitable for the smaller cars.
Editor Rating
Rear View Mirror Backup Camera Buyer's Guide
What are the Things You Should Check in buying a Rear View Mirror with Backup Camera?
Screen size
The size of the screen is quite essential, most especially when a person is seeing movies while using a television. Besides, it expands the knowledge if you have to have a view of the images or videos at your backup camera GPS steering system. Nevertheless, the user's knowledge can be expanded by using a big-screen view, which gives you guidelines on your location and provides you with a perfect vision of your environments. Besides, a car that has a big screen GPS and a google map indicate the finest route to your locality lacking traffic problems.
Integration
The preeminent GPS backup camera is expected to incorporate well with your automobile without straining a lot. However, the development of technology that is adjusted in this device aids a person in his or her daily life and makes an individual relax while traveling.
Installation
It is quite easy to install the rear view mirror unit with the backup camera system since the mirror that has backup camera supports on your back view mirror. Besides, the stereo unit can occupy well space on the radio and the dashcam can be fixed on the dashboard. All these systems can be fixed easily and less space can be used in your vehicle.
Resolution
A good GPS unit that has a back view camera should indicate maps and images that are of high resolution. The crisp that is provided by the GPS is easier to identify and read the name of each street and road that is ahead. The uppermost resolution at the time with the combo of a big screen is the best guide when traveling.
What are the advantages of Using GPS and Rear View Mirror Backup Camera Combo?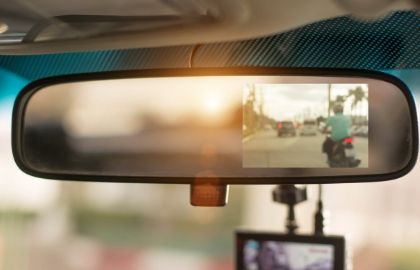 Back up cameras together with GPS has front and back cameras to aid the users to have a view and information about their environments clearly. The camera makes it possible to record each locality you have paid a visit and you can as well share with your beloved those moments. Folks are expected to buy back up cameras independently since most GPS units are availed autonomously in the market place.
Most of the old luxurious vehicles were fixed with a GPS system as standard equipment, though with the improvement in technology it has become possible to have GPS together with camera combo in a single device, as a way of advancing the system of your vehicle. For you to enjoy the new version of both you need to fix the best GPS camera combo that is wireless in your automobile.
Good advanced technology is meant to develop the value of machinery. The same applies to automobiles. Hence, it is easy to move a car with steering and camera aptitudes.it is possible to fetch a stunning profit when you want to sell your car that is fixed with all the technologically advanced systems.
What are the Benefits of Having Rear View Mirror with Backup Camera?
During an accident, the rear view cameras play a part as a fair witness. However, a dash offers convincing evidence on what had occurred earlier after and during the incident. Moreover, dash cam models offer GPS data logging too. It is possible for the GPS data to be draped on a Google-type map in a video replay on your home laptop.
Conclusion
All the above rear-view cameras will provide you with sufficient safety on the road during reverse, parking, as well as while driving. There is a horde of rear-view cameras in the market each brand featuring slightly different features from the other. Depending on your budget and personal preferences, we found the top three products to offer the best features, best value for your money, and the most premium choice, respectively.
The Top Pick
The Topguard 8" camera Dash Cam was our choice for the top product. This is mostly because of its uniquely sturdy build, quality image presentation, and ease of installation. The camera has a unique interface that is more intuitive than most of the other products on the list. It is the best rear-view mirror camera you can get in the market today.
The Premium Pick
The AUTO-VOX Wireless Reverse Camera was our premium choice product. That is mainly because it offers top-notch features to its users and excellent interaction with its high-resolution touchscreen that allows you to view both the front and the back of your car simultaneously. Though it is a little more expensive than most products in the least, it makes up for it with excellent features and a sturdy build that promises many years of service. This camera is also excellent at capturing license plates and could play an essential role while asking for compensation from your insurance company.
The Value Pick
Our choice for the best value product was the SENDOW-Mirror Backup Camera. Despite the unit coming at considerably lower prices, it manages to offer excellent features to ensure your road safety. For instance, the unit offers an amazing 170-degree view from its front camera and 130-degrees from its rear-view camera, which is excellent, to say the least, for the price tag. It also renders quality 1080p images on its 7″ LCD screen, making it easy to spot any object obstructing your car when reversing even in low light conditions. The device also features a G-sensor feature to lock your footage in case of any accidents, which can be used as evidence in a court of law or to claim compensation from your insurance provider.