Taking the untrodden path is something that every Jeep owner enjoys. Jeeps are powerful vehicles that are capable of taking you almost anywhere you want. On the flip side, navigating a tough spot in a jeep can be tricky. This is where a jeep winch can help. A jeep winch is an easy to use tool for removing obstacles from your way and getting the jeep out of danger. Whether you are stuck in a crevice, a hole, or mud,  a winch can assist you in getting back on track.
With that said, there are many things to consider when looking for the best Jeep winch. Everything from the motor strength, winch-type, line pull rate, line speed, and mounting style determines how reliable a jeep winch is. Since there are so many jeep winch options on the market, it can be difficult to find one that fits your needs. In this article, we list down the top winches for jeeps.
View the Best Winch for Jeep, Below
1. Superwinch Terra Utility Winch for Jeep
Superwinch is one of the most known names when it comes to Jeep winches. Unsurprisingly, one of their top-performing products ranks first on this list. Superwinch Terra 45 is a sturdy and reliable jeep winch and is known for its reputation as a workhorse. While the 4,500-pound pulling force doesn't qualify it as the most powerful one, it certainly is impressive considering its weight category. The winch is built for jeeps in a lower weight class and offers amazing features for these vehicles.
With this winch, jeep owners can utilize the Terra 45's special power draw motor and 6.6 HP low amp. With the inclusion of a 3-stage system of gear, these features make the winch suitable for all kinds of terrain. The gear system is extremely efficient and sophisticated at the same time. The special bronze bearing transfers all the power from the engine to the cables. The feature allows the winch to have a greater towing ability and a more effective response.
Superwinch 1145220 Terra 45 ATV is an excellent winch that offers various great features, despite not being as expensive as other options. The tool has the reliable name of Superwinch at its back and is an amazing option for its weight category.
Editor Rating
2. Warn VR12-S Winch for Jeep
If you are looking for a robust winch for jeeps, Warn's VR12-S Winch is the best choice out there. The tool offers a lot of useful features, ranging from waterproof Albright contractors, specialized tie-plates and convertible control packs to a 3-stage planetary control system, powered by a 12,000-pound pulling ability.
Editor Rating
3. Smittybilt XRC Winch for Jeep
Powerful, durable, robust, and offering great value for money. Smittybilt XRC Synthetic Rope Winch checks all the boxes on our list and is our best value Jeep winch.
Editor Rating
Offroad Boar Winch is a great option if you are looking for a winch with plenty of features. It gives users plenty of good features but lacks the durability of top-quality Jeep winches.
Editor Rating
5. X-BULL Waterproof Winch for Jeep
X-BULL 12V Waterproof Winch is a versatile option for Jeep owners. With so many features, it is hard to categorize the winch into any one specific category. The number of features X-Bull offers overwhelms many Jeep owners. It is a heavy and powerful winch designed for heavy-duty work. The unit weighs 63.2 pounds and provides users with a load capacity of 13,000 pounds. Further supported by its synthetic cables, it can pull you out of the deepest puddles and holes.
Since the winch is waterproof, it can bear the harshest of weather conditions. At the same time, X-BULL has an amazing design, which looks attractive on Jeeps. The only downside is that it requires two separate 12V batteries to start.
Considering its many features, its price is justified. The winch is heavily built and is one of the most powerful units available in the market. However, it isn't suitable for users that have no need for powerful winches.
Editor Rating
6. Superwinch Winch for Jeep
Superwinch Winch is a low-tier winch designed for supporting jeeps that don't require too much power. The winch offers a pulling capability of 3,000 pounds. Despite being less powerful than other options, the winch is something you can quickly use for emergency situations.
At the same time, the winch also has a hook, coupled with a pinned clevis latch. The hook lets the winch ensure firm grip over objects you want to pull and it uses a 1.2 HP motor to assist you in removing obstacles. Although it is a low-tier winch, it is incredibly durable for its price.
It's true that Superwinch 12 VDC Winch seems a little bare-bones considering its price point. However, it is a reliable winch and is great for situations that require minimal force.
Editor Rating
7. Smittybilt X2O Winch for Jeep
If you are looking for a Jeep winch with a motor with exceptional horsepower and pulling capacity nearing 10000 pounds, Smittybilt  X2O is the go-to option. The winch supports a motor wound of 6.6 HP.
Having the ability to change load gears also makes this winch unique. The 3-stage gear system allows the unit to utilize energy efficiently. The black-textured finish protects it from the rain and other external elements. Although the unit weighs 99 pounds, it is worth buying when you are expecting the worst.
It is a heavy-duty winch ideal for the harsh weather conditions and terrain.
Editor Rating
8. Warn ZEON Winch for Jeep
Warn  ZEON Winch for Jeep is a robust winch that balances beauty, quality, and building design expertly. It has a finished satin-black aluminum cast, which not only adds to your vehicle's beauty but also offers protection. The unit gives you long-lasting weatherproof protection. Since the unit is extremely durable, you can make most of its workhorse properties. At the same time, you can also use its raw power of 12,000 pounds to great effect in a number of difficult situations.
What makes this unique even more special is that it does not weigh as heavily as other units with the same features. That said, if you only use your jeep occasionally, then the unit is too expensive and buying this unit is not recommended.
Editor Rating
There are many great things about this winch, but it is suitable for intermediate use. We have other options that offer better features at a lower price point.
Editor Rating
10. Superwinch Tiger Shark Winch for Jeep
Superwinch Tiger Shark Winch for Jeep looks as cool as it sounds. The winch has an attractive design along with a powerful motor and engine. Superwinch 1595200 has been designed in a way that makes it extremely easy to use. Therefore, jeep owners who are not familiar with winches can start with this winch.
It comes with a remote control that works from a distance of 12 ft. The unit provides protection against all external elements due to its weather-sealed design. Since the contractor has the same weather protection as the rest of the unit, you can trust this hardy unit to overcome harsh conditions.
Not many Jeep owners know about Orcish, but the variety of features and raw power it offers makes it a worthwhile choice.
Editor Rating
11. Orcish Winch for Jeep
While Orcish Winch for Jeep is one of the most well-known winch makers, the Orcish 13,000lb Waterproof Electric Winch offers many features that only high-end winches have. With an IP67-rating, the unit is completely dustproof and waterproof. In other words, it can work perfectly fine even when submerged under one meter of water.
After purchasing the unit, you will get a 10,000 lb-rated winch that works on 12V batteries. At the same time, the unit also offers you a hand remote as well as a wireless remote controller. That's not all, the rest of the kit contains a pair of gloves, a set of wire cables, and a strong high-tensile synthetic rope.
With the help of its three-stage planetary gear system and heavy-duty sealed contactor, you can traverse all kinds of terrain and weather with confidence.
Although it has a higher cost than other options, it is a great option for Jeep owners who haven't used winches before.
Editor Rating
12. AC-DK Electric Winch for Jeep
AC-DK 13,500lb Electric Winch for Jeep is a heavy-duty model developed from high-grade materials. The top-quality design makes the unit resistant to harsh weather.
Since the unit resists both moisture and corrosion, you can trust this winch to help you traverse tough paths easily. The unit provides its users with raw power and you can benefit from a load-pulling capacity of 13,500 pounds. The unit has dual modes that are compatible with both wireless and wired remotes.
Furthermore, the unit gives allows Jeep owners to benefit from a ton of other features including, alloy Hawse fairlead, heavy-duty sealed contactor, automatic load-holding, as well as a motor cooler to avoid overheating.
The unit is not as popular as other brands of winch for Jeep but offers many features that other well-know brands don't.
Editor Rating
You May Also Like For Your Jeep
Winch for Jeep Buyer's Guide
For people who haven't used a Jeep winch before, it is difficult to get your head around all their features. Follow this buying guide to find a Jeep winch you need.
Things to Consider Before Buying a Winch for Jeep

Rated Line Pull (Winch Load Capacity)
Rated Line Pull is the most important factor when you are choosing a Jeep winch. It is usually shown in kilograms or pounds. The higher load capacity a winch has, the heavier objects it can move.
Most winches are available in a range of 2000 pounds to 13,000 pounds. However, if you are buying a winch for your jeep, it's a good idea to multiply the weight of your Jeep by 1.5 and buy the winch that has a loading capacity higher close to that figure.
Electric vs. Hydraulic Winches
There are two kinds of winches – hydraulic winches and electric winches. The only difference between these winches is their work cycle. An electric winch can allow you to run the winch even when the engine is not working but only runs for five minutes. On the other hand, the hydraulic engine requires you to spool as long as the engine is running.  Furthermore, hydraulic winches are suited for heavy-duty commercial use, whereas electric wenches are suitable for jeep owners.
Line/Rope Length
The length of rope can range from the 20-foot mark to the 100-foot mark. Naturally, the long rope is useful in more situations but can be more expensive and difficult to maintain. This is why you should prefer ropes with 50-foot lines.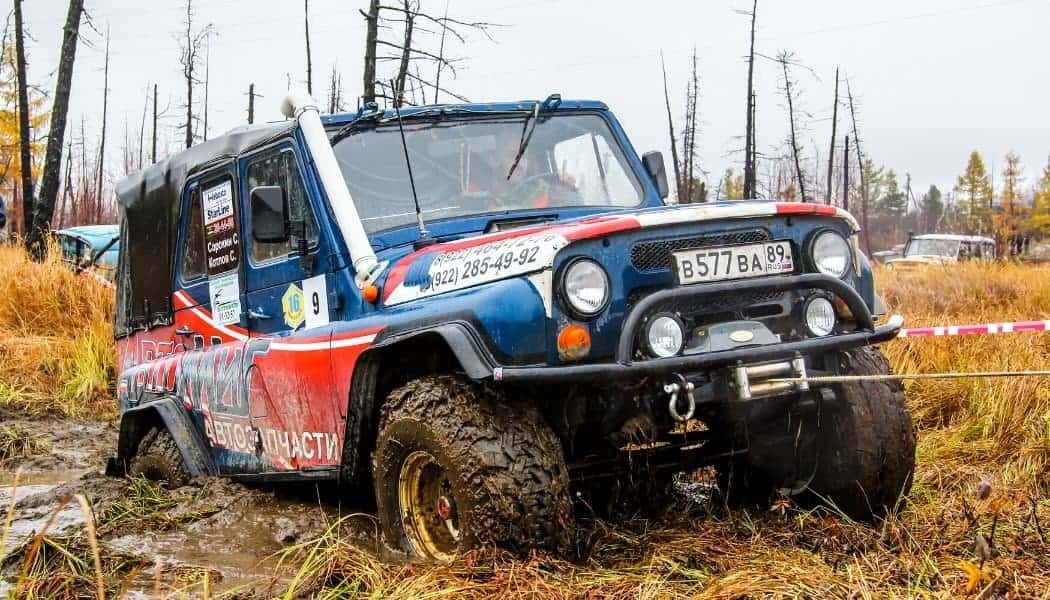 Is using a winch more effective than towing?
When you are traveling off-road, it isn't rare for your Jeep to get stuck in a pit or puddle. In many situations, there isn't any car available nearby. In such situations, a winch is better equipped compared to another car towing you.
Which rope is better for Jeep – a synthetic rope winch or a steel wire rope winch?
You should always choose synthetic rope winches over wire rope winches since synthetic ropes are more advanced than wire ropes. They have high-tensile characteristics and are more flexible and lighter. Due to their appendage-friendly surfaces, they have the ability to handle higher tension than steel wire ropes that have similar diameters. Read this article to learn more about synthetic vs. steel lines.
At the same time, synthetic ropes are lighter than steel ropes. This means that you can easily free spool synthetic ropes and haul them to your anchor point. Furthermore, the reduced weight in your weight will also be good for your jeep as it is easier to carry around. With that said, we recommend wearing proper gloves when using synthetic or steel ropes.
Are synthetic lines for a winch for Jeep more costly than steel lines?
If you have bought a new winch recently, you would have noticed that models with synthetic ropes are slightly more expensive. If the cost is a major factor for you, then there is no harm in sticking with an affordable steel line. Just remember that you may have to replace the synthetic rope in a few years depending on how often you use it.
Is it possible to replace a steel wire rope with a synthetic line for Jeep winch?
Yes, you can replace a steel wire rope with a synthetic line. A significant number of manufacturers supply aftermarket synthetic lines if users have damaged their previous lines. You can buy a synthetic line and replace it with your wire rope.
What kind of Jeep winch is best, a hydraulic winch or an electric winch?
Hydraulic winches have greater load capacity compared to electric winches. However, you should remember that hydraulic winches are more suited for farm work, ranching, or other heavy-duty commercial activities.
 If you are buying a winch for your jeep, you should go for an electric winch. Electric winches are more suitable for 4X4 SUVs when compared to hydraulic winches. At the same time, electric winches are more easily available than hydraulic winches.
Which motor would be the best for my Jeep winch – Series Wound (SW) motors or Permanent Magnet (PM) motors?
Both of these motor types can work well in harsh conditions. Nevertheless, Series SW motors are durable, powerful, reliable, and more capable of doing heavy-duty work in extreme weather.
Final Thoughts
If you are looking for the best winches for jeeps, you have several great options to choose from. In most cases, top manufacturers like Warn's, Superwinch, Smittybilt units are the most reliable, durable and robust ones. Nevertheless, you should buy a Jeep winch that suits your needs the best.
Below are our top picks:
Best Choice: Superwinch 1145220 Terra 45 ATV is an excellent winch that offers various features and does not cost as much as other options.
Premium Pick: If you are looking for a robust winch for jeeps, Warn's VR12-S Winch is the best choice. The tool provides plenty of incredible features, such as waterproof Albright contractors, specialized tie-plates and convertible control packs to a 3-stage planetary control system, powered by a 12,000-pound pulling ability.
Best Value: Smittybilt XRC Synthetic Rope Winch will give you great value for your money.