You are on a road trip with your friends in your stylish Jeep. You are playing loud music and singing songs loudly, enjoying the strong winds that caress your cheeks. Name a more iconic scene, we'll wait!
A road trip with friends is incomplete without music. Do you remember the classic 'Bohemian Rhapsody' scene from Wayne's World where the teenagers were seen head-banging to Queen's song? We all do. In fact, we even aspire to recreate the scene with your group of friends. If your aspiration aligns with ours, this article is just for you. Here, we'll talk about the best speakers for the Jeep wrangler soundbar.
Ready to invest in the coolest car part? Check out the list of available options and see if you can find your perfect match.
View the Best Speakers for Jeep Wrangler Sound Bar
1. Mopar Jeep Wrangler JK Speakers for Sound Bar
Your search for trendy, user-friendly, and extremely incredible speaker set is over! Mopar Jeep Wrangler JK Speakers are one of the best and extremely popular among Jeep enthusiasts. Offering the best sound quality, these speakers are packed with exceptionally great features.
These high-tech speakers create amazing sound effects, making your road experience exhilarating. They are lightweight – only 10lbs – and are highly durable. Their compact size and weight make them extremely easy to install. These speakers feature a great design that will enhance the interior of your Jeep as well. Your vehicle's existing wiring will be sufficient for the installation of these speakers.
A top choice of many Jeep enthusiasts, this speaker set is a perfect find for you. It features amazing sound quality and is available at a very affordable price. This long-lasting speaker set's overall performance is great. It is indeed a great option to consider.
Editor Rating
2. JBL Premium 5.25-Inch Speaker for Jeep Wrangler Sound Bar
The lightweight speaker set is a premium choice that is packed with magical features. Responsible for producing great sound, this purchase will leave you satisfied for years to come.
Editor Rating
3. Rockville EasyMount Sound Bar Speakers for Jeep Wrangler
The Rockville EasyMount Soundbar Speakers for Jeep Wrangler are 200watts RMS and 300watts peak. They come with durable mounting brackets that are made of plastic and are waterproof. They are further reinforced with steel and nylon that make them even sturdier. On the one hand, the nylon makes them easy to adjust, the steel construction allows them to withstand tough conditions.
These speakers include marine-grade components, which means they won't get damaged by moisture, water, or even saltwater. These speakers come in shiny black color and are both rust- and water-resistant.
These speakers are durable and well-built. They also produce high-quality sound that will make your road experience more fun and interesting. Available at an affordable price, these speakers also boasts a great design and eye-catching color. These are one of the best speakers and should be on your to-buy list.
Editor Rating
Select Increments Centra-Pod with Kicker is a great speaker set, which has a sturdy construction that adds to its durability. These speakers offer great sound even in harsh weather conditions. The set can easily be fixed under the dash on the transmission bump. The speakers have grooved borders and poly cones. The unit also has a straight forward installation process.
Editor Rating
5. Generic Jeep Wrangler Sound Bar with Built-in Speakers
Perfect for 1955-2006 Jeep Wrangler, this Generic Jeep Wrangler Soundbar with Built-in Speakers comes with an incredible combination of perfect sound and catchy LED lights. These red, blue, and mixed lights enhance the appearance of your Jeep as well. The system also has a wonderful built-in Bluetooth feature, which allows you to connect any device with the system and play the songs of your liking.
The speaker set is made from craggy textured black plastic material that doesn't only make the system sturdier and durable, but that also withstands harsh weather conditions. Once installed, the system remained intact in its place for years. This long-lasting and durable speaker set should be one of your top choices. It is also available at a pocket-friendly price, which makes them even more desirable.
A speaker set with great visual appeal, these speakers are perfect for providing amazing sound quality and enhancing the look of your vehicle. It features unbelievable sound quality and an equally incredible durable and strong built. It also comes with two 1″ super dome tweeter with lighted flame LED and two 6″ high-output woofer.
Editor Rating
6. CFE Jeep Wrangler JK Sound Bar Speakers Upgrade Kit
Are you done with the factory-fitted audio system of your Jeep? If yes, you should consider buying the CFE Jeep Wrangler JK Sound Bar Speakers Upgrade Kit that boasts premium features. Specifically designed for Jeep wranglers, these speakers produce HD sound, allowing you to remain entertained throughout your journey.
This two-way coaxial speaker set includes a poly-treated woofer cone that offers refined sound. It also comes with 2 custom peel and sticks foam gaskets that are important for improving the seal between the soundbar and the speakers. Installing the product is also a breeze. With these speakers, enjoy HD sound during your road trip.
CFE Jeep Wrangler JK Premium Sound Bar Speaker Upgrade Kit are high-performing speakers that are available at an affordable price. They are packed with so many great features and have satisfied a large number of buyers. When it comes to this product, it is best to keep your skepticism away and invest in this incredible product.
Editor Rating
7. Rockford Fosgate Soundbar Speakers for Jeep Wrangler
The Rockford Fosgate Soundbar Speakers for Jeep Wrangler boast a strong and sturdy built. They have vacuum polypropylene cone with rubber surround. The speaker set comes with integrated high-pass crossovers, mounting hardware, and grilles.
These coaxial speakers produce the best sound. The speaker set also has a flush tweeter that makes the sound even more refined. These speakers are one of the best options that you have and are great for budget-conscious buyers.
These speakers have taken the auto part market by storm. Famous for their premium features, these speakers should be a top choice of Jeep owners.
Editor Rating
8. MCM Custom Jeep Wrangler Speakers for Sound Bar
For Jeep owners who are looking for speakers that can create crystal-clear sound, the MCM Custom Jeep Wrangler Speakers for Sound Bar are a good choice. This easy-to-use speaker set is good for outdoors and can continue to work even during the rainy season.
It has a poly cone woofer and rubber surround. The only complaint that buyers have with regard to this product is that its metal grill on the front is not rust-resistant.
One of the best speakers for Jeep wranglers, this speaker set offers great sound. It has a sturdy construction that makes it usable during the rainy season as well.
Editor Rating
9. Sound Bar Six Speakers for Jeep Wrangler with Map Lights
If you are looking for the best speakers for the Jeep wrangler soundbar, you should check out the Sound Bar Six Speakers for Jeep Wrangler with Map Lights. The sound quality that the speaker produces is indeed incredible.
The soundbar is constructed using weather-resistant plastic, allowing the product to brace all kinds of weather conditions. The system also comes with built-in Bluetooth, which means you don't need wires for connection.
This speaker set is, hands down, one of the best. It has a 200-watt system that doesn't only offer better power, but also provide amazing volume control. Available in sophisticated grey and black colors, this product is also great for adding the "oomph" factor to your Jeep.
Editor Rating
10. Pioneer A-Series Sound Bar Speakers for Jeep Wrangler
These speakers are perfect for providing clear and crisp sound. For your next vehicle update, you can easily consider this great product.
Editor Rating
11. Infinity Kappa Speakers for Jeep Wrangler Sound Bar
The Infinity Kappa Speakers for Jeep Wrangler Sound Bar set is equipped with an edge-driven soft-dome tweeter that is able to handle high power. The product also includes a glass-fiber woofer that is equipped with Plus One+ technology and a rubber surround. All of this enables it to produce high-quality, sharp, clear, and smooth sound.
The infinity component speaker is another good option for Jeep enthusiasts who are looking for a speaker set to upgrade their vehicle. With this set, you will be able to enjoy a clean and crisp sound.
Editor Rating
You May Also Like For Your Jeep
Speakers for Jeep Wrangler Sound Bar Buyer's Guide
Things to Consider When Buying Speakers for Jeep Wrangler Sound Bar
Regardless of which car accessory you are looking to buy, it is crucial to have a proper understanding of the things that you need to consider before making a purchase. In this section, let us have a look at a few factors to which you must pay attention when buying speakers for a Jeep wrangler soundbar.
1. Sensitivity
The sensitivity of a speaker basically relates to the sound that it produces given a certain electrical input level. A speaker with higher sensitivity ratings (over 90 dB) best matches a low-powered car stereo (15 watts RMS, or less, per channel). Similarly, speakers with lower sensitivity ratings are best for a high-powered stereo system (16 watts RMS or more). To have excellent sound quality, it is better to properly match the speaker with the stereo system.
2. Types of Speakers
There are two types of speakers commonly available in the market: component speaker systems and full-range speaker systems. To better understand which speaker is the right choice for you, let's have a quick look at both systems.
– Component Speaker Systems:
Known for delivering superior sound quality, the component speaker system comes with external crossovers, separate woofers, and tweeters. In this way, you can arrange the entire system in a way that yields better sound quality.
With a component speaker system in your Jeep wrangler, you will get more realistic music that will not only have greater depth but will also sound more live. The component speaker systems are also usually made from high-quality and premium materials and are, generally, long-lasting.
– Full-range Speakers
Full-range speakers or coaxial speakers contain all the elements in one unit. They are what you will generally find in factory-fitted audio systems. Even they are a cost-effective option as compared to component speakers, they are not as effective as the latter. They consist of a tweeter, which is mounted onto the woofer, for the highs and a woofer that produces the lows. In some models, you will also find additional drivers such as super tweeter or midrange.
These are the two common types of speakers for Jeep wrangler. Which one is better for you depends on the quality of music you are looking for. For excellent sound product, the component speaker system is undoubtedly the right choice.
3. Power-Handling Capability
Another thing to look for in a Jeep wrangler speaker system is its power-handling capability. When browsing through different available options, make sure to check how much power the speaker can handle. For better results, you should go with a speaker that has a power-handling capability close to the amps' output.
This means that you have to check the speaker's maximum RMS power handling. RMS ratings are preferable mostly because they let you have an idea about the power the speaker can handle on a continuous basis. To give you a general idea of what this power-handling capability is all about, consider this example: if you have a low-powered stereo, you should go with a system that is rated at 2-50watts RMS.
4. Materials
Speakers that are made from premium materials are sturdier and more durable. In fact, they also produce better sound quality. This is why, when you are buying a speaker, it is necessary to check the materials used for its construction.
– Tweeter Materials
If you want a more refined and mellow sound, you should go with the tweeters that are constructed using soft materials such as silk, poly, or textile blends. The material used for tweeters plays has a big impact on the overall quality of sound. In the same manner, go with tweeters made from hard materials such as graphite, metal, or ceramics in case you prefer the highs snappy and bright.
– Woofer Materials
Just like tweeter materials play an important role in determining the overall sound quality, woofer materials also have a great impact on the quality of music produced by a speaker.
Woofers that are made from stiff yet lightweight materials are better at effectively producing the low notes. Woofer cones made from polypropylene or other synthetic films are also great for deep bass. Woofers that are made from premium materials are able to withstand cold, moisture, and heat.
– Surround Materials
The surround on your woofer is responsible for allowing the woofer cone to emit bolder bass and move freely. This element of the speaker system should be made from durable materials that are capable enough to withstand extreme temperature and humidity.
In this regard, surrounds that are made of rubber perform efficiently. If you want to opt for a more cost-effective option, you can go with surrounds made from cloth or foam.
5. Size
The size of the speaker also plays an important role in producing the sound quality. Lighter and smaller speakers, for example, do not produce great sound as compared to large and heavy speakers that produce better and high-quality sound.
6. Speaker Cabinet
It is extremely important to buy a durable and sturdy speaker cabinet. The cabinet should be made from dense materials such as wood as it should be able to withstand the vibrations caused by the sound.
7. Sound Quality
The purpose of installing a speaker in your Jeep is to be able to enjoy music during your travels. It is a given that sound quality is one of the most important elements of a speaker. When choosing a speaker set, go with the one that can produce high-quality sound.
8. Cost
Defining your budget before you set out to buy a speaker set is extremely important. The market is saturated with a variety of options and you can come across speaker sets carrying different price tags. There is a common misconception among people that all good things are extremely expensive.
While it is true that some products that are available at throw-away prices are not long-lasting, you can also find better-quality speaker sets at a decent and affordable price. Do look out for other features when buying a speaker set and don't let the price of the product be the only deciding factor.
FAQs
How do you install Jeep Wrangler sound bar speakers?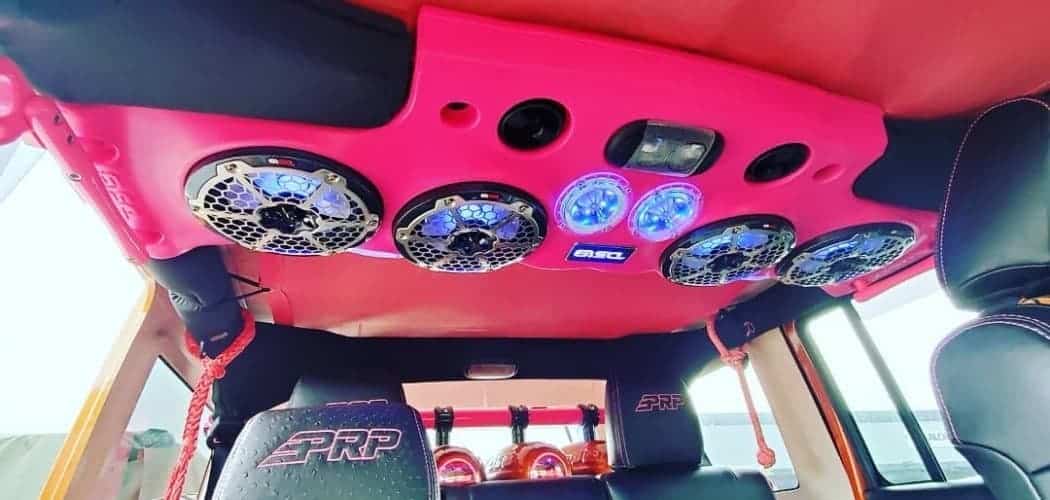 Factory-fitted audio systems in the most Jeep are not up to the mark. This is why people buy new Jeep speaker systems to have a much-needed upgrade in their Jeep. Once you have bought a new one – preferably after choosing from the above-mentioned list, you can install it quite conveniently. Here's how:
Gather all the tools: From screwdrivers, Allen wrenches, and an electric drill to electrical tape, you will need quite a few tools. Make sure to keep your toolbox nearby so that you don't have to pause your work every time you need to go and grab a tool.
Disconnect the Car's Battery: Before doing any sort of electrical work, it is crucial to take necessary safety precautions. When installing the speakers, make sure that you have disconnected the car's battery. This will prevent the risk of damage to the car due to a short circuit or any injury from electric shock.
Take Off Speaker Grilles: Speakers are usually protected with a grill or panel. Carefully remove that grill and then remove the factory-fitted speaker.
Connect the New Speaker: Now, connect the new speaker by plugging the product's wiring harness to the car's electric system – wiring harness. Remember to match the polarity of the speaker and the vehicle's connections. The speaker's positive terminal generally has a + sign and is larger than the negative terminal. Also, try not to connect the speaker's wire to the vehicle's electrical system using electrical tape as extreme weather conditions can wear off the tape. This can cause many problems.
Test the Speaker: Before you put on the grill, make sure to check the speaker to ensure that there are no problems. For this, you have to reconnect the car's battery to check if the speakers are working fine. In case they don't, it indicates that there is something wrong with your product's electrical connection. Now, test all the remaining components of the speaker system – subwoofers, tweeters, etc. – before securing the new speaker in its place.
Fix the New Speaker: Now, place the grill back on its place. Your speaker is now installed!
The Final Word
Road trips without music are boring. Everyone loves listening to music when covering long distances. This is why it is advisable that you invest in speakers for your Jeep wrangler soundbar. In this article, we have tried to include all the specifics that will help you make a well-informed buying decision. We, now, will mention Top 3 products for you.
– The top pick: Mopar Jeep Wrangler JK Kicker Speaker Upgrade is a trendy and stylish set of speakers that give premium sound quality. These lightweight speakers are our top choice.
– The premium pick: JBL Premium 5.25-Inch Component Speaker System is an expensive product that comes with incredible features. It has a great design, which helps it produce unbelievably good sound.
– The value pick: Another great speaker set, Rockville (2) EasyMount Soundbar/Rollbar Speakers for Jeep Wrangler is compact yet packed with amazing features. Available at an affordable price, this product is hard to miss.