Riding on a Jeep Wrangler is perhaps the most exhilarating experience. However, the performance of your Jeep Wrangler is largely influenced by its wheels. Substandard tires can ruin your driving experience.
To ensure that you get maximum pleasure out of your road trip or casual commuting via Jeep Wrangler, you should give high importance to your Jeep Wrangler's tires and understand how crucial it is to buy high-quality tires.
There are plenty of options for tires in the market and, at times, it gets overwhelming to choose the right one. We're here to help you make a well-informed decision. Here, we'll look at the top tires for Jeep Wrangler.
View the Best Tires for Jeep Wrangler
1. BFGoodrich All-Terrain Radial Tire for Jeep
For Jeep owners who are looking for both on- and off-road adventures, this BFGoodrich All-Terrain Radial Tire for Jeep Wrangler is undoubtedly the best option. Equipped with the race-proven CoreGard technology, the tires feature a tough built and year-round traction. They are also a suitable option for those who live in the colder regions of the globe as they have great traction in snow. One complaint that buyers might have with this tire is that it is not quiet. However, even though you can hear the noise, it is not overpowering and you can easily talk to the person sitting next to you when traveling. This means that the noise produced is in an acceptable range.
These tires are long-lasting, all thanks to its tear-, cut-, and chip-resistant tread. They also offer impressive features such as innovative siping and loose object ejection and interlocking tread blocks. The tires' internal structure comprises twin steel belts which add to the tires' durability and strength. The belts are also combined with 3-ply polyester and nylon, which make the tires even sturdier. Even though the product makes for a great all-terrain tire, it is not a substitute for an actual winter tire.
A durable, sturdy, and tough tire, the BFGoodrich tire is the best for both off-road and on-road driving. The sturdy tread on the tires given them even more strength. Perfect for all terrains, these tires are the top choice of Jeep Wrangler enthusiasts. And there's no reason why they shouldn't be.
2. Nitto Ridge All-Terrain Jeep Tire
This set of tires should be on the to-buy list of most Jeep Wrangler enthusiasts. Responsible for providing great traction, these tires are an ideal option for off-road drives. The brand, Nitto Tires, is also famous for launching innovative tires that are committed to providing performance that is on a par with sports performance car tires.
3. Goodyear Wrangler Radial Tire for Jeep
Goodyear is a credible brand, which produces high-quality and durable car tires. Goodyear Wrangler Radial Tires are one of the best Jeep Wrangler tires that are designed in a way to fit a wide variety of Jeep Wrangler wrangler models. They also offer dependable traction and efficient performance. The tires feature large tread blocks that make it easier for drivers to handle the vehicle effectively, including on the toughest terrains as well. The large blocks also enhance the stability of the vehicle.
A big advantage of these tires is that they come with a warranty as well. So, if you find that the tires have started wearing off within the stipulated warranty period, you can opt for replacement at either no cost or a prorated-price. To have even greater durability and strength, the tires' inner side comes with two seat belts. On the tires' sidewall are white outline letters that give them an enhanced appearance.
You can never ever go wrong with Goodyear products. This tire is also one of the strongest and most credible products out there. Available at a pocket-friendly price, these tires are definitely a must-have.
There is one word for these tires: exceptional. These tires work well on every kind of terrain. And can withstand harsh uses as well. They provide great traction and make traveling so easy for you.
5. Cooper Discoverer ST Maxx Tire for Jeep Wrangler
The Cooper Discoverer ST Maxx Tire for Jeep Wrangler boasts a 3-ply design with two polyester plies, which provides the tires with great strength. They also come with commercial-grade traction that makes them the top choice of Jeep owners who want to drive the vehicle on the roughest surfaces. Made from natural rubber and silica, the tires gove both wet and dry traction. This means that with these tires, driving on after-rain, silky roads wouldn't be much difficult.
The tires are also a great option for rides on muddy terrains and have an impressive self-cleaning feature. The only complaint that many drivers have with these tires relates to their weight. For some, these tires are a bit heavier because of which they cause some resistance when driven on the freeway. However, this feature is not something that would make your ride challenging.
If you are looking for tires that provide high-performance both on- and off-road, it is safe to say that your search is over. These tires are durable and sturdy and come with a long useful life. Famous for providing year-round traction, these tires perform exceptionally well on some of the roughest surfaces.
6. Toyo Open Country A/T II Radial Tire for Jeep Wrangler
One of the best Jeep Wrangler tires, Toyo Radial Tires are also famous for providing stability to drivers in all kinds of driving and climatic conditions. Equipped with a wear-resistant tread compound, the tire has enhanced durability and longer tread life. Its open tread design is responsible for giving the tires a tough look. The design is also equally responsible for allowing the wheels to give tougher performances on the roughest surfaces. One of the slight drawbacks of the product is that it is a bit noisy.
If loud noise is not a problem for you, the product is otherwise perfect. It also features zigzag sipes and polygonal blocks, which increase the performance of the tire in the snow.
These tires feature a great open tread design due to which they have a strong grip on surfaces like mud and rocks. These durable tires should be the top choice of Jeep Wrangler enthusiasts who want to take out their vehicles out on an adventure.
7. Goodyear Silent Armor Tires for Jeep Wrangler
Another great Goodyear product, these Goodyear Silent Armor Tires for Jeep Wrangler are tough and strong all-terrain tire. Manufactured with a Kevlar layer, the tires don't only have added strength, but they are also quite capable of absorbing vibrations. Another great feature of these tires is that they produce little to no noise at all, allowing you to enjoy quieter rides. The tires work well in the dry pavement, rain, and ice. However, one of the drawbacks of these tires is that they are not the best in the mud.
The other great features of the tires include its Durawall 5-tread compound, which offers maximum protection against cuts and punctures. For enhanced winter performance on ice and snow, these tires are molded with the Snowflake/Mountain emblem.
The Goodyear company has a great reputation. Its products are credible and high-quality. Investing in these tires will be a great decision.
8. General Grabber AT2 Radial Tire for Jeep Wrangler
Featuring a tear- and chip-resistant tread, this General Grabber AT2 Radial Tire for Jeep Wrangler is ideal for all kinds of climatic conditions. The tread blocks feature a computer-optimized design, which makes the tires quieter. These are strong and tough tires that let you have a safe ride.
An all-terrain tire, the General Grabber AT2 Radial Tire comes with great features that make your driving experience even better. They are a great choice for all Jeep Wrangler owners.
9. Bridgestone Dueler A/T REVO Tire for Jeep Wrangler
This Bridgestone Dueler A/T REVO Tire for Jeep Wrangler features open shoulders design that is responsible for providing enhanced traction. It is equipped with semi-stealth tread block technology, which helps it perform well on ice and snow. This tire boasts outstanding performance and is a great buy.
One of the high-performing Jeep Wrangler tires, these tires are perfect for all kinds of terrain and are perfect for both daily driving and off-road adventures.
These tires are yet another great product that is committed to providing high performance. Boasting a tough built, these tires go a long way in making your driving easy and comfortable.
Product of a trustworthy brand, these tires are available at affordable prices. Keeping in view the many features the product comes with, the price is literally a steal.
You May Also Like For Your Jeep
Tires for Jeep Wrangler Buyer's Guide
Things To Consider When Buying Tires For Jeep Wrangler
Do you want your Jeep Wrangler to give optimal performance? Then, you must invest in Jeep Wrangler tires. Here are some factors that you must consider when you are buying tires. Only high-quality, sturdy, and high-performing tires will give you the best driving experience.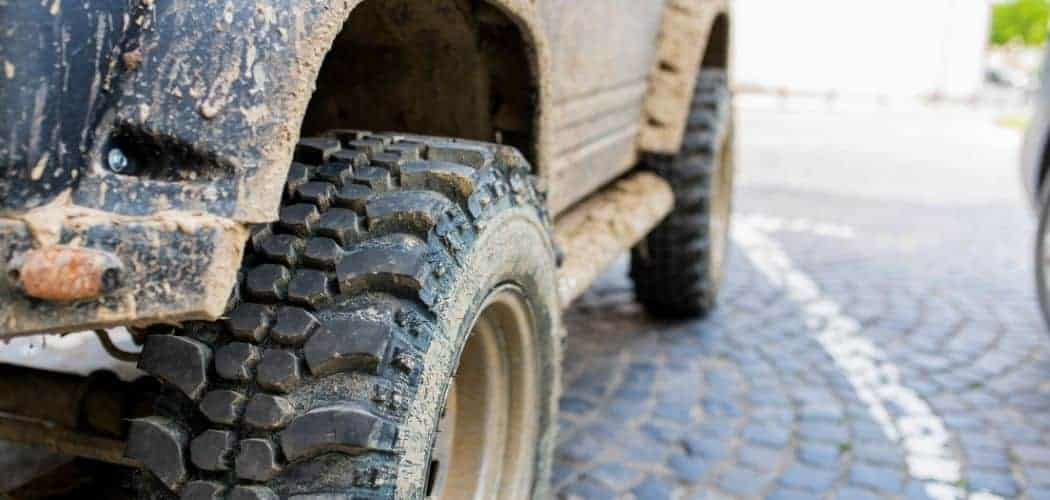 1. Types of Tires
How you intend to use your Jeep Wrangler plays a vital role in determining what type of tire is the most suitable for you. You will find plenty of off-road and on-road tires. You might wonder what the difference between these two kinds of tires is.
On-road tires, basically, work well on smooth roads and highways. In case they are used on rough terrain, they will wear out quickly. On the other hand, off-road tires are best used for off-pavement rides. These include rides on unsurfaced tracks or roads that are layered with rocks, gravel, mud, sand, snow, or any other natural terrain. These tires can perform exceptionally well on rough tracks. These tires are further categorized into the following categories:
(i). All-Terrain Tires
As the name suggests, all-terrain tires are perfect for both off- and on-road adventures. They have a sturdy and durable built and enhance fuel economy. Another benefit of these tires is that they make little driving noise.
(ii). Mud Terrain Tires
Are you thinking of taking your vehicle on muddy adventures? If such adventures are frequent, you should invest in mud-terrain tires. Tires that have aggressive and large lugs are designed to provide better traction, making them ideal for rough terrains.
In addition, they also have large spaces and tread blocks. This feature makes them self-cleaning and allows them to effectively clear debris or mud. Through this feature, not only the tires continue to maintain high traction, but you are also saved from hosing down your tires after every single trip.
(iii). Winter Tires
Are you living in the colder region which witnesses snowfall almost throughout the year? Miles and miles of snow on your way to work or any other destination can make driving a hassle. You do need tough winter tires that can make your ride easy and convenient.
(iv). Sand Tires
Have you ever experienced Dubai's famous Desert Safari? Have you ever thought what would happen if the tires of the Jeep Wrangler in which you enjoy going up and down the sand dunes sink into deep sand? Well, you would have to get off the vehicle as there is no way the tires can bring you out.
This is why Jeep Wranglers that are driven on deep sand, or in the desert, required specialized sand tires. Many Jeep Wrangler owners believe that mud-terrain tires are also great for sand. But this isn't the safe option as the mud-terrain tires come with a deep tread pattern that easily sinks into the sand. In case, you can't find sand tires nearby, you can consider going with all-terrain tires as well.
2. The Right Time for Replacement
Many people conveniently forget to pay attention to the regular maintenance of their Jeep Wrangler tires. Only hosing down the tires is not enough. You should actively look for signs that indicate that your tires need to be changed.
The most common signs are worn out treads and other structural damage. Tires of Jeep Wranglers that are exposed to harsh weather conditions may get damaged. To prevent them from becoming hazardous, it is crucial to replace them in a timely manner. Worn out treads also make your driving experience extremely dangerous. Since the tires have no to little footsteps, they become slippery. This, of course, is quite dangerous and makes the handling of the car quite difficult.
3. Material
Tires made from premium materials are long-lasting and perform efficiently. The common materials used for the construction of the tires are alloy and steel. For off-road driving, steel is the most preferred.
This is because rims made from steel are more uniform, heavier, and durable, and can easily withstand the off-road pounding. Tires made from alloys are, on the other hand, more suited for daily driving. Since they are lightweight, they are better for saving on fuel and vehicle handling.
4. Off-road Safety
For all your off-road adventures, it is important for you to go with the kind of tires that can easily withstand the harsh road conditions. Always remember that off-road driving is significantly different than riding on highways or other smooth surfaces. Make sure that the tires you are choosing have a stone rejecter that keeps the stones away. This is an important feature to look for as stone ejectors also prevent stones from clogging treads.
Don't forget to ask the seller about the level of performance the tires can perform when ridden on surfaces with dirt, debris, and mud. Driving on uneven terrain is indeed quite difficult. High-quality tires, however, will make your driving experience safer and more pleasant.
5. All-season Tire
Visiting the local tire shop every time the weather changes is definitely not a convenient option. It is, therefore, better to purchase all-season tires that provide efficient performance year-round.
From driving on a road affected by the dry season to driving on snow, the tires will work effortlessly.
6. Rim Size and the Width
It is important to match the size of the rim with your tire. Not every tire can fit the rim of your vehicle. So, you have to be careful when you are buying the Jeep Wrangler tires.
7. Tires Size
Your tire size will also depend on the use of your vehicle. Let's have a look at the three common sizes of tires and how they can help you have a better driving experience.
– 33″ Tires – these tires are ideal for driving on paved roads and highways. These tires are also very easy to install and you wouldn't need sophisticated tools to fit them on your Jeep Wrangler.
– 35″ Tires – these tires perfectly fit the 2007-2018 Jeep Wrangler wrangler models. They are a good option for Jeep Wrangler owners who love to take their vehicles off-road quite often.
– 38″ Tires – these tires provide the best off-road driving experience. With these tires, you will be able to give your vehicle increased ground clearance.
8. Treated Rubber
Tires that have silica or carbon compound-treated rubber are more durable. This is because the rubber provides them with more gripping power. As a result, the tires perform well on wet surfaces.
8. Budget
Another important thing to consider when buying Jeep Wrangler tires is the budget. Obviously, you don't want to drain your bank account for replacing Jeep Wrangler tires. In the same manner, you also don't want to buy tires of a cheaper quality.
Before setting out to buy Jeep Wrangler tires, make sure that you have decided on the budget. This will help you narrow down the options and choose the one which comes with magical features and is available at an affordable price.
FAQs
How much should I inflate my Jeep Wrangler tires before using them?
There are no standard specifications with regard to the pressure you ought to maintain in your tires. Your best bet is to ask the manufacturers. Also, the ideal pressure is also dependent on the type of driving and the tire. For example, for casual road driving, all-terrain tires should have a pressure between 30 and 38psi. On the other hand, if you are driving on sand, you can reduce the pressure to 16psi.
What is the right size of the tire?
As such, there is no "right-size" of the tire. All you have to be careful of is the fact that your tire is proportional to the size of the rim. When you are buying the tires, make sure that you know the size of the rim. Otherwise, tires will give you a hard time at the time of installation.
What are the best Jeep Wrangler tires?
All the products listed in our article have gained positive reviews from independent buyers. However, it is also important to note that the term 'best' is relative. A set of tires that gave you unbelievable experience may not be best for your friend, for example. Your choice is entirely dependent on your budget and needs.
The Final Word
Buying a car part is a long process. There are so many things that you have to consider before you finalize your purchase. We hope that this guide can help you make a well-informed buying decision. In case, the list of our products is a bit overwhelming for you, we will make your choice easier by mentioning our Top 3 products. We have picked the following three products based on their amazing features and impressive reviews. Let's have a look:
– The top pick: BFGoodrich All-Terrain T/A KO2 Radial Tire is an exceptionally tough and strong tire. It has race-proven CoreGard technology, which improves its performance.
– The premium pick: Nitto Ridge Grappler All-Terrain Radial Tire is a premium pick that is packed with amazing features. It is a long-lasting tire that boasts impressive functioning.
– The value pick: Goodyear Wrangler Radial Tire is a product of the Goodyear company that has so much credibility. Packed with amazing features, this product is available at a great price.